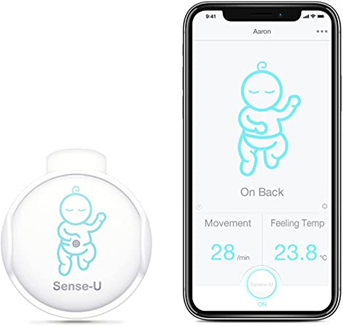 Sense-U Baby Breathing & Rollover Monitor
RRP £79.99

I find that I can barely sleep when I'm worried that I might be needed during the night. When we first got our puppy, I couldn't sleep properly for weeks, never mind being a new parent. As new parents will know, you can't keep hopping up and checking in on your baby every five seconds or you'll risk waking them up right after you finally got them to sleep. But, if I don't get up and check once I've got it into my head that I should, I might as well say goodbye to sleep myself. Having a way to check on them and really know that they're fine, without needing to disturb, them is a great way to make sure that everyone gets enough rest – baby and parent alike!

Rather than trying to decipher your baby's breathing and comfort from a video image, the Sense-U shows you the exact information you need presented to you as a set of facts. This device monitors three key things – your baby's temperature, their breathing rate, and whether they are sleeping on their front or their back.  Using the app, you're shown this information in an easy-to-understand readout that you can check at a glance. At the top of the screen, there's an image of a baby either laying on its back or its front, with 'on back' or 'on stomach' written above, and to make it extra clear, the 'on back' baby is in a soft blue whilst the 'on stomach' alert shows in red. Underneath, you have a reading for your baby's breathing rate and temperate, and again, for ease, these readings show in green or red to let you know whether or not everything is ok.

This at-a-glance display is perfect, as it allows parents to check the app with the same ease as checking the time, giving you peace of mind as you get on with however you're spending your evening. I'm a bit of an over-checker, so being able to cast my eye at the app and see such an easily understandable result meant it didn't feel like an interruption.
Very thoughtfully, the Sense-U uses Bluetooth Low Energy (BT4.0) which has almost zero radiation levels. The downside of this is that it affects the Bluetooth's reach, but not with the impact you'd think. The signal can reach up to 15 meters, though brick walls do affect this. If you need any extra reach, there's an optional base station that you can use to boost the signal further. As for the monitor itself, it is extremely low-impact in regards to your baby - the device clips onto the waistband of your baby's nappy, placing it in the perfect spot for checking temperature, breathing rates and which way round your baby is laying. There's nothing that could get in their way or cause a hazard.
Checking out some other parents' feedback for the Sense-U, I came across one parent whose baby had been hospitalised very young, and the moving review said how they had gotten used to the hospital's monitors giving temperature and breathing feedback, and that on having their baby back home with them, this product gave amazing peace of mind. All new parents worry, and this product is extremely helpful and reassuring whatever your circumstances, but I thought it was a fantastic point to Sense-U's name that it has been especially able to help parents who have been going through challenges.

This is not a monitor for crying, so I would recommend still covering yourself for that. However, this is a fantastic additional device that gives incredible peace of mind. You can either purchase the Sense-U Baby Breathing & Rollover Monitor separately, or as part of a complete monitor bundle from Sense-U that also comes with monitors for room temperature and humidity levels, smoke levels, window and door status, and finally, video and audio. Personally, I would say that this sensor and the video/audio monitors are the most essential, but the complete bundle is ideal if you want to make sure that you've left no stone unturned.

5/5

Pros:
Monitors breathing, temperature and sleep position
Unobtrusive
No radiation
Safe
Gives great peace of mind
Easy-to-read app
Visual and audio alerts
App also compatible with other Sense-U sensors

Cons:
Just remember that it doesn't come with audio & video when buying