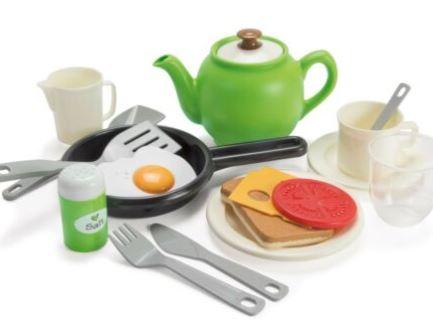 Dantoy - Green Garden Breakfast Time
£15.44
dantoy.dk/en
 
In my first year of primary school (basically kindergarten), we had a toy café, with appliances and everything, set up in a two-storey indoor playhouse. It was by FAR the most popular part of playtime, to the point where a rota had to be drawn up of who could play in it when. People were assigned time slots during which they could play at running the café, as well as slots where you could pretend to be customers. It was an endless source of fun, as well as quite the fictional social hub (and, now I look back on it, some early programming for service industry shift work. And my generation has the gall to claim school didn't prepare us for the realities of life...)

Finding the Breakfast Time playset on my desk, from Dantoy's Green Garden range, was a real perk to my day when I got into the office. I annoyed my colleagues with offers of imaginary tea all day, and thoroughly did my due diligence in plating up toy meals and making sure my eggs were well fried.

The full catalogue of Dantoy's Geen Garden series is super cute. The company produces a series of gardening-themed toy sets featuring plastic watering cans, trowels, garden forks, plants and the like. There are then a series of toy meal sets like this one, and the angle all seems to stick within this 'garden living' theme – there are sets that seem like the spread you'd have at a barbeque, for example, with garden table appropriate jugs and plates etc. accompanied by burgers, salad and even mayonnaise. Some sets even have baskets in which to gather the tomatoes and mushrooms that you can then build into burgers along with your plastic patties and buns. The whole range has a cream and green colour scheme, again to keep it feeling fresh and outdoorsy. With the sun shining outside, this got me longing for a real barbeque, or, just as much fun, to be out in the garden with the little'uns playing Garden Party.

Within this lineup, the Breakfast Time set seemed a little lacking at first. I thought it missed a few tricks to make the spread extra homey and kitchen-garden-esque, such as butter pats for the toast or more choice of breakfast-appropriate veggies (mushrooms, for example). When I first opened the box, I was also surprised that there were no sausages or bacon– it felt like we had some elements of a fried breakfast, but it seemed incomplete to me. Then I realised that I was approaching this from an English perspective, when this toy came is from a company in Denmark. So, I had a little Google of Denmark's fry-ups, and picture after picture of fried eggs and tomatoes on toast came up – so, I guess I'll shut up!

Moving on from my ignorance about food in Denmark (we English are very fussy if we don't get our bangers and bacon), this set is very cute and has some lovely attention to detail. It not only has a teapot and cups, but saucers and a little teaspoon. You can fry your eggs and tomatoes, flip them with the flat spatula, serve them up with the serving spoon, and even salt them as you go! There are 29 pieces in total, so whether you buy this as a stand-alone, or in combination with other Green Garden sets, you have plenty to play with and host a lovely breakfast for two.

I love the vibe of the Green Garden toys. Even though these toys are plastic (which sadly can't really be helped), they encourage an appreciation for gardening and the outdoors, and an understanding of meal ingredients coming from your home garden. That's a lovely pattern to establish early in our kids, and is an added benefit to all the other benefits of social make-believe play.
As for this set, it's nice to see that kids still have toy kitchens. It was a trip down memory lane to play around with, and you wouldn't believe how much it boosted my moral to have a little toy plate of eggs on toast next to me on my desk.

4.5/5

Pros:
29 piece set
Durable and child-safe
Cute and wholesome
Builds imagination and social skills
Kids and adults can play together
Lots of thoughtful details

Cons:
Give me my bacon