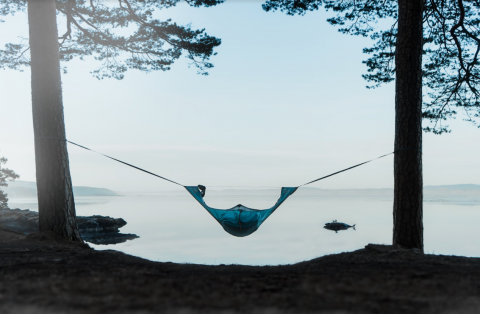 Amok Equipment - Draumr 5.0 hammock; Fjøl sleeping pad; Skjold 10 tarp
amokequipment.eu
Draumr 5.0
€229.95
€249.95 XL
Fjøl sleeping pad
€99.95
€119.95 XL
Skjold 10 tarp
€129.95 Dark Grey
€149.95 Camo
€159.95 Ultralight

After so long cooped up at home, it felt fantastic to get back into the great outdoors and finally take a holiday of sorts, even just a little long weekend in the UK. We received a delivery of camping gear from Amok Equipment, which was the perfect excuse to pack up the tents and head outside. Finding somewhere we could book was tricky at short notice - it seemed like everyone had the same idea that we did! - but one area that didn't give us any trouble was our Amok gear.
Amok sent us three items – the Draumr 5.0 hammock, a Fjøl sleeping pad to slot inside it, and a Skjold 10 tarp.  These items can all be used separately, but they work fantastically in combination – especially the addition of the sleeping pad to the hammock to firm up its shape and make it an even more comfortable and supportive place to relax or sleep.
The Draumr 5.0 hammock is available in two lengths: the standard length is 185cm/6' 1", and the XL is 210cm/6' 11". In both cases, the maximum user weight is a generous 180kg/400lbs.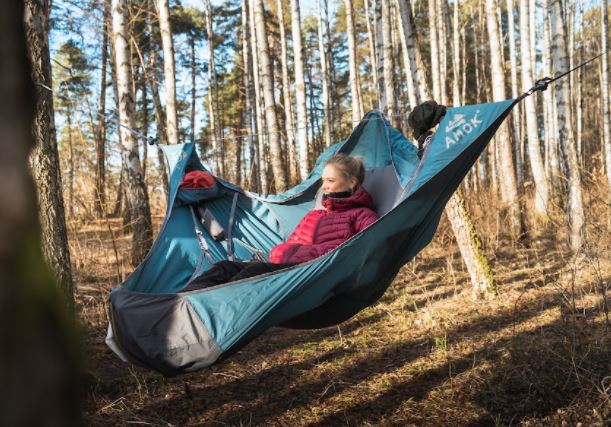 I immediately loved the Draumr 5.0's design. When I think of hammocks, I think of the horizontal things that are easy to unbalance, but this was entirely different. The Draumr cradles you in a secure open-faced pocket that hangs at a comfortable diagonal angle, with a wrap around your feet to stop you ever needing to worry about falling out. (As one would assume, it comes with all of the tree straps etc. that it would need to be secured in position).
To function, the Draumr hammock needs to be paired with a sleeping pad. Suspended in the trees and safe from the cold of the ground (or, if you're in America, that bit safer from bears), the sleeping pad then allows you to lay in a truly flat position if you want, or you can assume the rather fun 'chair mode' position. The hammock has a built-in pocket that you can slide your sleeping pad into, which makes sure it doesn't slip around and that the hammock bends and responds to whatever position you assume.
You can pair this hammock with any sleeping pad that has the right measurements, but we were sent Amok's standard Fjøl sleeping pad. This three-season pad measures in at 198 x 63 x 9cm/78 x 25 x 3.5 in, or 220 x 63 x 9cm/ 87 x 25 x 3.5 in in the XL. Its R-value (a measure of how much the sleeping pad will prevent your heat from flowing down into the ground) is 3, which is a decent result given that entry level sleeping pads often have a value of 1. Add into that the fact that you're suspended rather than on the ground, and all in all, you should be keeping hold of that precious body heat. This pad is extremely comfortable, has a non-slip surface that further prevents it sliding around in its pocket, and it even comes with a repair kit.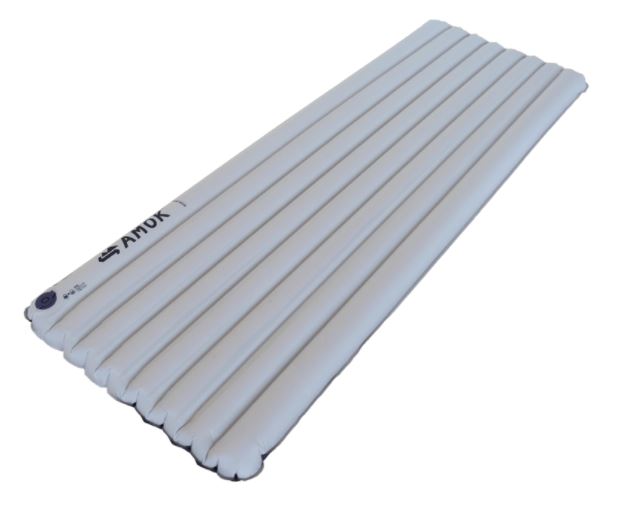 To make hanging around as convenient and comfortable as it can, the Draumr has a number of pockets and a bottle holder to keep your supplies organised and in easy reach, and it also comes with a number of other helpful features such as what it calls a 'bomb proof' bug net. This net has several sliders, so you can pick which sides you want to open. I was worried it would feel a little oppressive inside with the net down, but you actually have a lot more space in your little bug-proof cocoon than I expected, and it's a welcome relief when you're hiding from evening midges. You can still see and participate in campside banter, but securely hanging in your lordly pod of elevated bug safety.
The Draumr may keep you safe from insects, and its design seeks to reduce annoying drips, but for protection from the elements when the sky decides to fall, you might want to consider pairing your set-up with a camping tarp. Luckily for us, given the start-stop rain we had, Amok sent us one.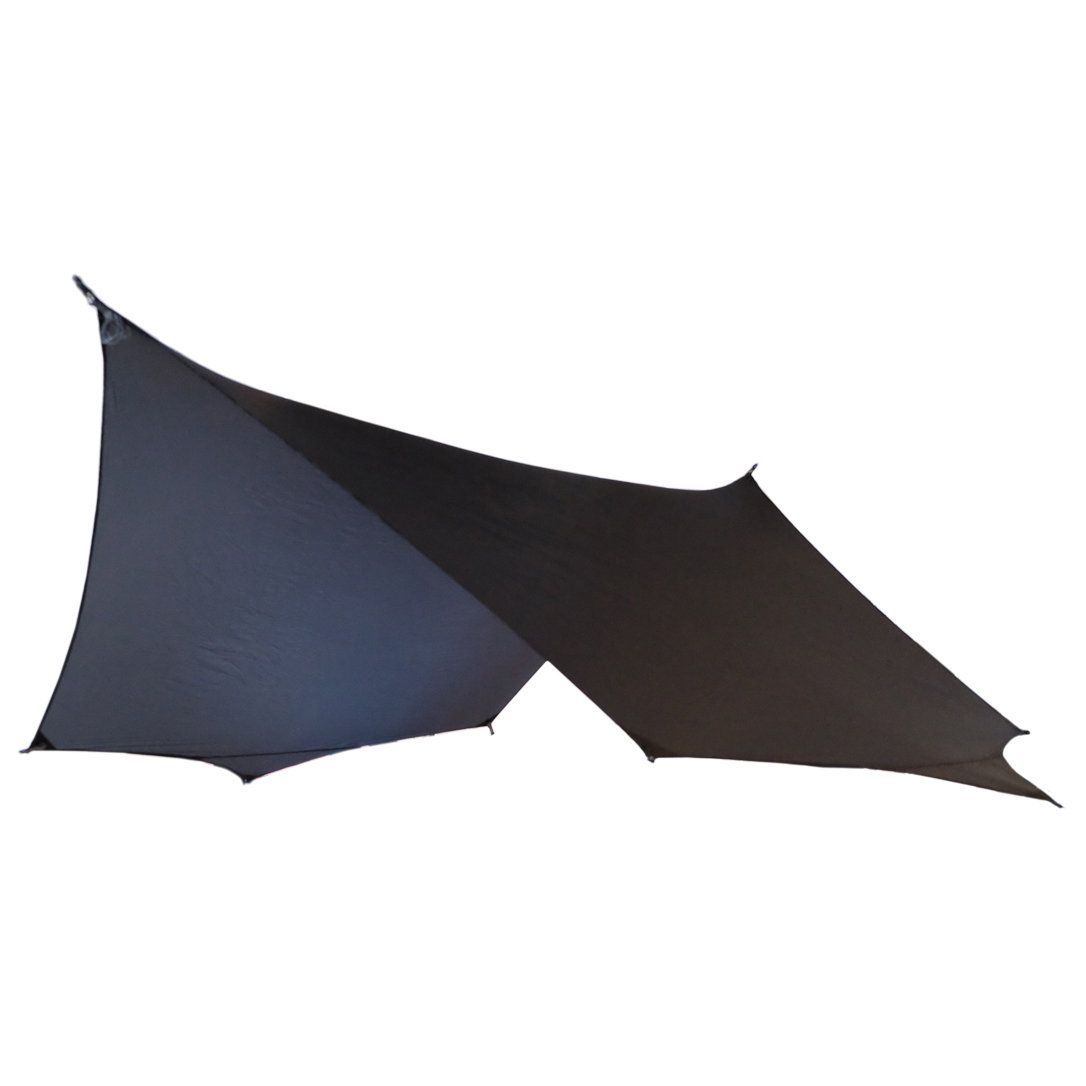 We received the Skjold 10 tarp. It is available in Dark Grey, Camo or Ultralight. All three tarps measure at 380 x 300cm/ 148 x 118 in and provide approximately 10m² coverage. They come with the stakes and guylines you might need to erect them – in the Dark Grey and Ultralight's cases, these guylines are reflective, to stop you tripping over them, but in the Camo version, they support the camo by being non-reflective.
This tarp is a shape that means it fits well over either the Draumr or a regular hammock – you just turn it 90 degrees. It can be suspended from two trees or can be erected on poles. Either way, it's easy to put up and you'll be VERY glad you have it if it starts raining!
All of this gear was fantastic. It is a little dear if you're a casual camper, but you do get what you pay for. The tarp was a well-crafted shape for keeping rain off of you without it collecting, the hammock was extremely comfortable and convenient (and actually felt secure, which hammocks often don't!), and the sleeping pad will keep you reliably warm and supported. These items have all been carefully engineered to be ready to tackle the elements you'll face, so if you can, they're really worth the investment. They made my weekend away much more relaxing, and I didn't get into a single tangled-hammock farce!

5/5

Pros:
Hammock has multiple positions
Secure shape and feeling
Handy pockets and storage
Easy to put up
Effective bug net
Sleeping pad is well insulated
Tarp is perfect size and shape to protect from rain
Doesn't rely on sticking to Amok brand to combine with other items
Cons:
Full Amok set-up is a bit costly
 


Hammock images by Kristian Aalerud