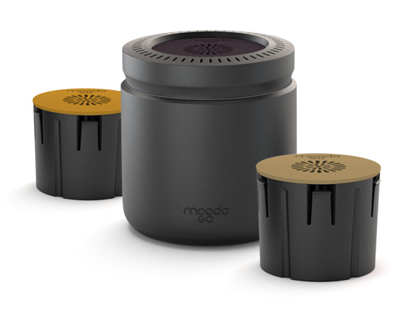 Moodo GO
Moodo GO + 1 Capsule: £36.90
https://moodo.co

The Moodo GO is another brilliant air freshener from MoodoAIR's Moodo line. We were previously sent the Moodo AIR [review here] - an innovative air freshener and purifier 2-in-1 for your home that combines four scents together in adjustable amounts. The Moodo GO is a compact, one-scent version of the Moodo that's been designed with your car in mind.
Cleverly, this mini Moodo fits into your car's cup holder, keeping it securely in place and also giving it a great vantage point from which to freshen the air of the entire car. (Of course, it does mean you don't have somewhere to put your cup, if you wanted that morning coffee-to-go.) As the owner of a young Border Collie who enjoys jumping in mud and rolling in unspeakable things, a nice scent in the car is very appreciated!
We received two individual capsules for the Moodo GO - Sea Breeze and Orange Sunrise, both of which were scents we had also tested as part of some sets of four with our Moodo AIR. As well as working well in such combos, these scents also stand up brilliantly on their own. Both of them smelled lovely in the car, especially Sea Breeze, as I personally found that the citrusy smell, whilst refreshing and evocative of holidays, also made me a little motion sick. That said, it's important to note that you can set the intensity of the fragrance your Moodo releases, which is perfect for finding your personal sweet-spot.

It really is remarkable how good these scents smell. Created especially for Moodo by French perfumers, you can tell that love has gone into making them. Orange Sunrise, for example, really does have a zing like orange juice that leaps out of the other scents.

Unfortunately, capsules for the GO only work in the GO – you can't mix and match between your GO and your AIR or original Moodo. This is a shame, as a user of either device might end up with a stockpile of capsules, and it would be extremely handy to be able to trade them in and out between devices. Having separate capsules for the different devices is less user friendly and a bit of a faff, whereas if they were cross-compatible, I'd be very easily tempted to buy a GO as an add-on to my existing Moodo.

This also means that, currently, there are fewer scents for the GO, but this is bound to change. The scents that do exist, however, work very well.

Pros
Fits easily in cup holder
Brilliant smells
Adjustable smell strength
Easy to use

Cons
Capsules aren't compatible with regular Moodo