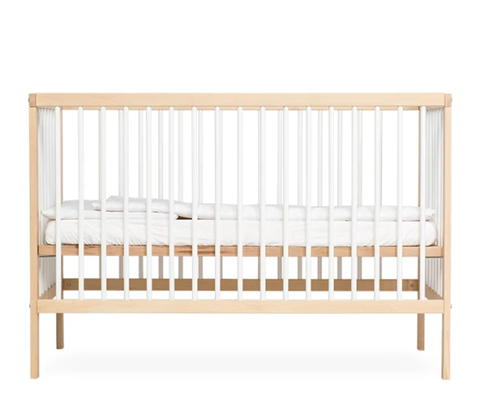 moKee Mini Cot
En.mokee.eu
£135
The Mini Cot from moKee is a stylish and safe cot for your child, from a new-born right through to a toddler. Made from attractive and sturdy beech wood, you can rely on its stability and its eco-friendly, water-based paint is approved for your baby.
The main feature to this cot is its adjustable base. You can shift its height between three different settings, changing the height at which your child is sleeping, making the same cot appropriate for a newborn all the way through to a three-year-old toddler. A newborn shouldn't be in too deep a cot, so you can reach them easily, but of course, the older they get, the more height is needed to keep them contained! Young children grow up so fast that raising them contains the constant expense from replacing and upgrading gear, so anything that can last you all the way through is a fantastic investment.

On top of this, the moKee Mini Cot has further customisation options via add-ons such as a below-cot drawer or an attachable changing mat and mobile. There's a whole selection of items needed by first-time parents, so if you're looking to buy a coordinated set-up with ease, you can invest in the whole lot.
It's worth bearing in mind that this cot will, of course, require a mattress before you can use it, and these are available from moKee at an additional cost. It is usual for cots and mattresses to come separately, however, and moKee's offerings have a good range of options to suit a range of budgets. If you want to source your own mattress, you can: it takes mattresses that measure 120 cm x 60 cm. As for the cot itself, it measures at W64 cm x L124cm x H84cm. It's the perfect size, with plenty of room for your child but no bulk that it doesn't need.

The cot comes in a variety of colours, which I'm always happy to see, and they're a gorgeous range for a  nursery, too. For the most part, they're light colours such as a soft teal, soft aqua and soft pink, a white or the lovely white-beech combo that we received. There are also a couple of darker options – a stone blue and a deep black – that I wouldn't personally opt for, but might be the ideal solution for a range of aesthetics that aren't always catered to, colour-wise, by nursery furniture, so that was awesome to see. You can also select the colour of the add-ons, either opting to have everything in the same colour, or to have a splash of something different in the drawers, for example. Again, this is the level of customisation detail I'm here for. Very helpfully, the website shows you a preview of whatever colour combos you select, which goes to show how many combos look really good together.

I can't think of anything wrong with this cot. It looks lovely, its versatility extends the lifespan of its use, and you can have it just the way you like it.

5/5

Pros:
8 colour choices
Optional drawers & add-ons
Changeable bed height
Suitable for newborns – 3 years
Sturdy beechwood
Eco-friendly paint