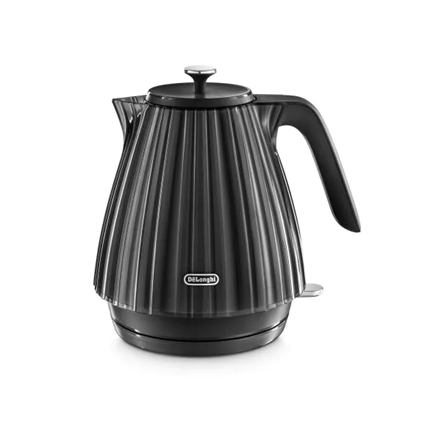 De'Longhi Ballerina Kettle
www.delonghi.com
£59.99

The Ballerina Kettle is part of a two-piece Ballerina Breakfast Collection from Italian domestic appliance company De'Longhi. Focusing mostly on coffee and the kitchen, De'Longhi has many stylish kettle and toaster sets to choose from, from vibrant urban chic to soft-toned outdoors-inspired collections.  The Ballerina set has drawn its inspiration from, as you may have guessed, the ballet, and more specifically, it seems as though it has been designed to mimic the effect of pleated tulle falling in a layered skirt.

This effect is created by a clever finish in the plastic surface of the kettle that De'Longhi says draws on Venetian glasswork. This finish creates an effect that looks like heavy pleats from some angles, soft pleats from others, almost giving a sense of movement and airiness as the light plays off of the kettle's surface.
The Ballerina kettle and matching toaster are available in either Opaline White, Laguna Green or Furnace Black. For me, the green versions do the best job of mimicking the look of tulle; the black is so dark that it looks industrial and solid, and the white version is so stark that it has a similar effect. I would have loved to see a softer white, and possibly a larger range of colours that gave us tones more like the green. We received the 'Black Swan' of the collection, and whilst Tchaikovsky's classic means I can absolutely see why the colour option was included, I still don't think it works well with the desired effect.

This kettle has a 1.7l capacity, with a one cup minimum fill. Its detachable base allows cordless use, and it has a removable, washable filter that makes it easy upkeep. It's an attractive kettle, and the way the light plays on the surface is a little captivating and helps to brighten up the area of the kitchen it's in. However, I feel like its aesthetic has slightly missed the mark by failing to produce soft-tone options, as I feel like people who would be drawn to this tulle aesthetic would appreciate those choices. That said, it's a cool look, and if you like the look, then that's all that matters. This kettle is reliable, functional and looks good – there's nothing more one could ask for!

4/5

Pros
Attractive design
Swivel base
Cordless use
Removable, washable filter
1.7l capacity
Matching toaster available

Cons
Could have tone with a wider, softer colour range