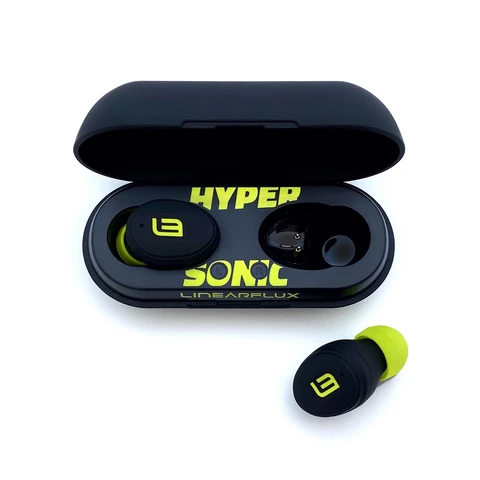 Linearflux Hypersonic Lite earbuds
The Hypersonic Lites are a true wireless earbud from Linearflux promising hyper-definition sound. I must say, when I first saw these, I thought they were going to be pretty run-of-the-mill earbuds, but I was impressed and very pleasantly surprised.

In essence, these earbuds tick all of my boxes. They're responsive the second you take one out of the box, turning on and getting ready to pair. They pair with ease and speed, they never dropped out on me, they sit comfortably in the ear, they're neither concerningly light nor annoyingly weighty, and they stay put. And, most importantly of all, they kick out good sound.

Linearflux boasts an 'exclusive' 3D hyper-definition sound engine in these buds. Presumably, this means it's the company's own. Whatever it is, it works – the music is sharp and clear, has a good range and a satisfying bass. That's all I ask!

The packaging it cheap and simple, but where you save money on that (and let's face it, you're going to throw the packaging away), you save on the headphones themselves. The case feels solid and has a fun design – I'm a fan of that black and lime green look, and I enjoy the way the script is written on the inside of the box. It changes things up a little, making these a bit different from the every-day earbuds you see. To quote Marie Kondo, it 'sparks joy'.

The Hypersonic Lite comes with an IPX 6 water-resistance rating, which is a higher rating than many buds on the market. This is extremely important – I hate eying a rainy day and worrying over whether or not I should listen to my music. If there's anything worse than a rainy dog-walk, it's one without any tunes to keep you going!

Lastly, these buds have a decent battery life, which is my final requirement from wireless headphones (because I never remember to charge them). They can produce up to 6-8 hours playtime per charge - 18+ hours with charging case. These aren't the best numbers out there, but they're certainly up there, and given the all-round reliability and performance of these headphones, I'll take it. Best of all, if you forgot to charge them (like me), then five minutes of charge whilst you grab your shoes and get ready to head out will give you an hour of playtime – now THAT has me sold.

Overall, the Hypersonic Lite is a strong all-rounder. It sounds great, it wears well, it pairs quickly, it's safe in the rain, it has a decent play-life, and it looks fun. In a world of plain black ear buds, why not have something that little bit different?

5/5

Pros:
Good sound quality
Comfortable
Pair quickly and well
IPX 6 Water resistance
Good charge time
Fun case