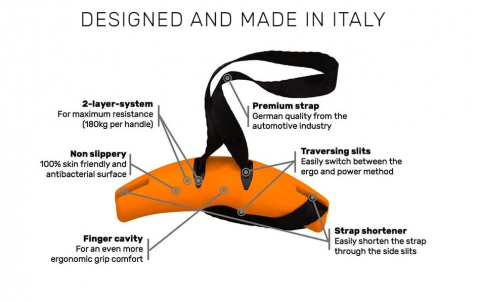 Angles 90 Training Grips
https://europe.angles90.com/collections/onlineshop
RRP £43.90
My fitness background is that I have run for years and don't do nearly enough yoga and stretching. As a result, I have tight hamstrings and when I bend over, I can only just reach my shins. On those nights that I am not running, I like to hit the gym and do weight training, and the programme I follow finishes off with deadlifts. Deadlifts are where you stand in front of your bar, hold on and stand up – sounds easy, but it is surprisingly difficult to master. Firstly, I find the horizontal hand position unnatural and it twists my wrists; secondly, my tight hamstrings don't allow me to bend over low enough to comfortably hold the bar. I almost wrote off the deadlift from my programme, but I didn't want to as it offers so many benefits to one's training.
I heard good things about the Angles90 training grips. These are simple strap grips that you attach to the bar, thus raising the height of your grip and allowing your wrists to move freely. Each strap can hold up to 180kg, meaning they have a combined total of 360kg. The straps can be adjusted to two lengths, you can grab the grip in three different ways for different applications, and they allow your wrists to find their comfortable natural angle. These brilliant grips have revolutionised my training, allowing me comfort whilst doing previously uncomfortable exercises. Remember, if your exercise is uncomfortable, there is a good chance if causing stress on the ligaments and joints – meaning these grips are saving me from damage to myself as well as making my workout my enjoyable.
I have been playing with these Angles90 for a couple of weeks now and they work for most pull exercises, such as pull ups, lat pull downs, shrugs and machine rows. My further reading into the Angles90 revealed that they claim they also help muscle growth through better, fuller movement. I can't comment on this yet – however, it does make sense, and once you use them, I think you will agree they can make exercises more accessible and more comfortable.
I can't believe how versatile and relatively cheap they are. Usually, any accessory linked to the gym is expensive, but these are very reasonable, and fantastic value for money.
4.5 out of 5
Pros
Cheap
Versatile
Comfortable
Reduces strain
Cons
Holds 360kg - however that is more than enough for most of us.