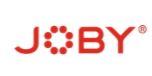 JOBY Compact - the new tripod range designed for the modern content creator who demands only the very best in every occasion.
Versatile and lightweight, the JOBY range of full-size tripods includes everything the modern content creator needs to film high quality content in any situation
Four options available - JOBY Compact Light, JOBY Compact Action, JOBY Compact Advanced, JOBY 2in1 Monopod

JOBY Compact Light kit includes tripod + phone clamp

JOBY Compact Action and Compact Advanced available as single tripods and kits with smartphone clamp 
Cassola, October-2021 (EMBARGO DATE 5th OCTOBER) – To ensure that content creators around the world have access to the very best in compact tripod options, JOBY is delighted to announce their new complete full-size tripod range, JOBY Compact. Delivering feature-rich options that work with both conventional cameras and smartphones, these lightweight, strong tripods and monopod enable vloggers to set up stable, robust and versatile platforms for content creation on the go. They're designed to be incredibly lightweight so they're easy to add to any mobile kit. Options include the GripTight™ 360 Phone Mount that allows users to switch from landscape to portrait mode in seconds. There are four members of the JOBY Compact family made of three tripods and one monopod, each designed for different shooting styles, locations, and content creation.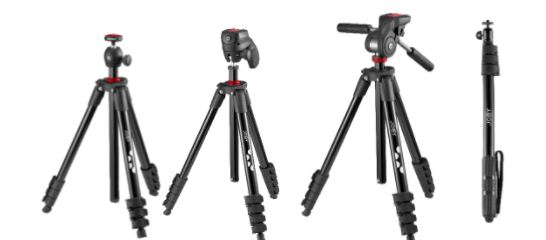 The JOBY Compact Light
 Simple, easy to set up and incredibly user-friendly, the JOBY Compact Light is the perfect choice for on-the-go vlogging and content creation. It's the practical compromise between a mini- and full-size tripod and has feather-light weight so you can use it when you are on the move.
It's lightweight at just 0.81kg, delivering full-size options in a compact design. It can take a payload of up to 1.5kg, and it's supplied with a mobile phone mount so users can add lights, mics and a wide range of JOBY options to create a complete TikTok set-up in seconds.
In just seconds you can attach your camera via the quick wheel and the universal 1/4'' camera attachment. With the built-in ball head and the single adjustment knob, you can quickly lock the camera into place and be ready for shooting.
 The JOBY Compact Action Tripod
 Get ready to create dynamic photo or movie content with this action-orientated option. Paring perfectly with other products in the JOBY range, the Compact Action features the same QR plate as the genre defining BallHead 3K, found on the GorillaPod 3K Kit. 
The JOBY Compact Action tripod has an ergonomic joystick head with an easy-to-use, intuitive scroll-wheel locking mechanism for maximum sturdiness. It also has a comfortable grip, enabling you to capture smoother photos and images effortlessly. With the photo/movie selector knob, you can switch from photo to movie mode in just a second, so you never miss out on an important photo or video opportunity.
 In the kitted version (JOBY Compact Action Kit), a unique rotating phone clamp is featured, with cold shoe mounts on both ends for total versatility.
 The JOBY Compact Advanced
 Take vlogging to the next level with the Compact Advanced. Packed with innovative features, it's designed to take compact mirrorless and DSLR cameras with ease. The 3-way head allows users to tilt and rotate for professional results, while the QR BallHead 3K is the same as the one used on the famous GorillaPod 3K kit, making this interchangeable with the whole JOBY kit range. Its 3kg capacity allows users to interchange parts and add on equipment with no loss of stability.
In the kitted version (JOBY Compact Advanced Kit), a unique rotating phone clamp is featured, with cold shoe mounts on both ends for total versatility.
 The JOBY Compact 2-in-1 Monopod
 When space is an issue, or if the content requires that "on-the-move" simplicity and dynamism, the JOBY Compact 2-in-1 Monopod is the answer. This option-packed monopod has a 1kg weight capability and a compact BallHead to create the ultimate selfie stick. For action shots, a Pin-Joint mount is also supplied. The 4-section design includes lever-lock legs that deploy or are retracted in seconds. Weighing just 0.28kg, the 2-in-1 Monopod is the ultimate lightweight monopod option that works with almost all cameras and mobile phones.
_____________________________________________________________________________________
JOBY – Have Fun. Create. 
At JOBY we believe in creation as an act of creativity. Since the very first day, when we were founded in the San Francisco Bay Area, we've always designed mounts, cases, lights, stands and grips with a user-centric approach. We've always tried to create functional yet playful, innovative yet easy to use products. Today, we keep building our legacy, shaping the content creation world day after day. We're always there for those who care for what they create, those who always go the extra mile, those who dare to be bold, those who want to leave a mark with their content. And, of course, those who want to have fun along the way. If you're that kind of creator, we stand by you. Because in the end the world is what we make of it, and together we can make it better - one post, vlog, story at a time.
Vitec Imaging Solutions
Vitec Imaging Solutions (VIS) is a division of the Vitec Group, a global provider of products and services for the broadcasting and imaging market. Vitec Imaging Solutions designs, manufactures and distributes high performance, premium branded products, which enable the capture and sharing of exceptional images. With a portfolio that includes nine premium brands - Manfrotto, JOBY, Lowepro, Gitzo, Syrp, Rycote, Colorama, Lastolite by Manfrotto, and Avenger - Vitec Imaging Solutions is the world's leading provider of accessories for the imaging market. In its ten key markets – Italy, France, Germany, the United Kingdom, China, Japan, Hong Kong, the United States, Benelux and Australia – VIS is represented by its own direct distribution system, Vitec Imaging Distribution, whereas in 80 other countries sales are handled by independent distributors.