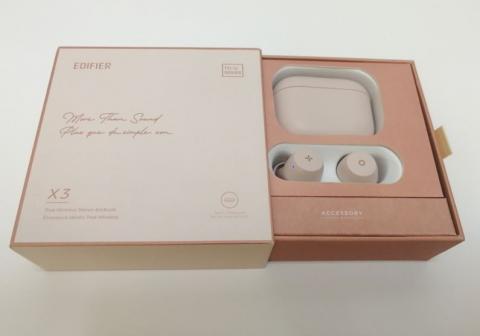 Edifier X3 TO-U
www.edifier.com
£29.99

Whatever the price bracket, headphones from Edifier tend to be an impressive entry into that bracket, and as usual, we were extremely satisfied when we tried out the new 'TO-U' version of Edifier's X3 true wireless earbuds.

One thing that immediately sets these buds apart from the original X3s is the appearance. Rather than a standard black or white, these earbuds are available in soft blue or pink, with packaging to match. We received the Edifier X3 TO-Us in pink: the packaging looks like it's a box of small chocolates or bonbons from a nice confectioner, with a soft pink body and a darker, dusty rose-pink text and edging. Inside, this pink theme continues, and the quality of the packaging material etc. definitely gives this box a slightly more indulgent feel than your average pair of headphones. It strikes me as great packaging for headphones if you intend them as a gift (or as a treat to yourself!).

The look and feel of the earbuds and case themselves are fairly average, and extremely similar to the original X3s, though again, they continue the new colour scheme. As for their sound quality, it is extremely impressive given their low-price bracket. They use Qualcomm® aptX™ audio decoding with a 16bit/44.1kHz frequency and 352kbps decoding rate, which keeps the output quality clear and sharp, with very little loss of depth or detail. They also use noise cancelling to keep your input clear when you answer calls, applying CVC 8.0 technology.
My biggest priority in wireless headphones and earbuds is battery life, and the X3 TO-Us do very well in this area, with 24 hours of playtime per charge. (The earbuds have about 5 or 6 hours of play for them per charge, and the case can fully charge them multiple times before it runs out of juice). On top of that convenience, they're lightweight and very comfy to wear, which is my other make-or-break. I've had cheap and cheerful earbuds that were lovely to wear, and £70+ ones that hurt to wear and dropped their connection repeatedly. These are comfortable, stay paired (using Bluetooth V5.0), and have an IP55 rating to protect them from water and dust, which is a higher resistance than many similarly priced earbuds on the market.

All in all, these are high-quality earbuds in an affordable price bracket. They look appealing, they offer all the basics that you need and they're that touch more special than the original X3s.

4.5/5
Pros:
Qualcomm® aptX™ audio decoding
Lightweight and comfortable
24 hrs total playtime
Appealing colours
Nice packaging
Strong Bluetooth connectivity