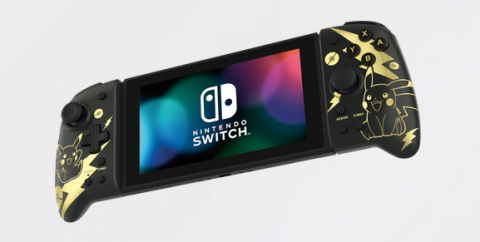 HORI Split Pad Pro (Pikachu Black & Gold) Nintendo Switch
£49.99
As Nintendo Switch is one the biggest-selling handheld consoles at the moment, I was really excited to see how HORI had designed the Switch Pad Pro in a way that could add to the already loved console, particularly with an interesting Pokémon twist.
When I first got my Nintendo Switch a couple of years ago, I found the joy cons to be slightly small, especially when I would smash the buttons, it could get very fiddly and would often fall out of my hands. That's why I find extra joy cons to be really great because they make my Switch feel a lot more robust, rather than a delicate piece of tech.
With the HORI Pokemon Split Pad Pro in particular, the joy cons are a lot bigger than others on the market. I must admit that for my small hands I did find them to be a bit chunky. However, when I gave it to a friend to try, he really liked the fact that they were a lot bigger as the Switch ergonomically fit into his hands better. In regards to the buttons, they have kept with the full-size analog sticks that I really like because it makes it so much easier to play longer sessions as its way more comfortable. They also kept the shoulder buttons full-sized which is a huge plus as I often like to rest my fingers on these buttons for optimum play, so when these are made smaller on other joy cons it can be really annoying. The turbo button is also a great addition for a lot of games. The only thing I would point out is that they can only be used in portable mode as they don't have Bluetooth. I don't mind too much really, however, as it allows me to have one set of joy-cons for the TV and another for handheld play.
In terms of the look and design, the black and gold look really sleek and is a good feature of Pokémon whilst still having the Nintendo overall look. Overall, would recommend for anyone who wants a guarantee of comfort and effective play, and a love of Pokémon!
4.9/ 5 stars
Pros:
- Larger size
- Kept with full-size buttons
- Edgy design
Cons:
- Not compatible with TV