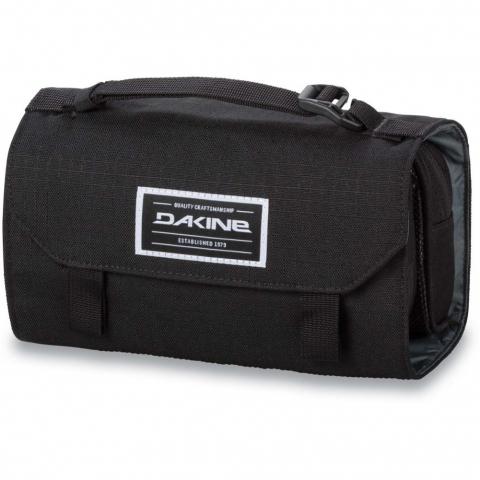 Whenever I'm in an airport, no matter how many times I've travelled, I always turn from a semi-normal, functioning human being into panicking forgetful mess…did I pack my own bag?! Yes, I think so, or did I forget and let that shady looking bloke with his exotic herb collection do it? Do I have any restricted items in my case? No, of course not, or did I accidently put in my carving knife?!?!
Nothing tips me over the edge like the liquid regulations; I always get it out of that little transparent bag too soon, I show the taxi driver, the check-in lady and  the coffee shop staff, but when I actually need it all the items have suddenly separated and disappeared into the contents of my case, prompting me to display my underwear and trashy novels to the world whilst other traveller have to stand over me. I was genuinely excited to get my hands on the Travel Tool Kit from Dakine, with the hope that it would remove at least one stress from travelling.
Made with a hanging 'dopp kit' design and a classic compact shape, the Travel Tool has a roll out action which means you can quickly access all your products. There are too large transparent bags and one more discrete pocket for…well, we'll let you decide. You can easily organise all your gear and locate it at a glance. The clear pouch is fully removable to flash it to security or take with you to the shower. The Travel Tool also has a quick-release webbing handle to securely hang the kit and there are useful elastic loops for storing razors or a toothbrush. The bag will hold 3-litres in total and the entire kit is made to a high-quality spec which gives me faith that it will become a regular traveller with me.
One tiny adjustment I would like to see would be that the closing straps are adjustable, just to make it easier to close when fully packed and compress it down when packing a little lighter. RRP £31
4.8 out of 5
Pros
Well made
Compact
Multiple interior pockets
Quick release webbing handle for hanging
Elastic organiser loops
Roll-out design
Removable clear pocket for airline security
Cons
Closing straps are non-adjustable