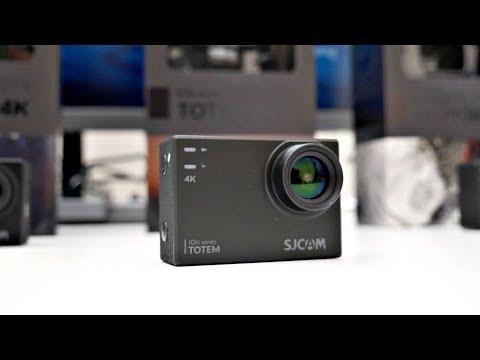 Cameras are constantly pushing photograph quality to new heights, but lately, the real focus for competition is video quality. With video now as commonly shared as stills, social media and online advertising have meant a coming-together of professional photography and videography, and cameras have been keeping up with industry demand. The Totem is part of the new ION line of cameras by SJCAM. The ION range tackles this demand by bringing a new steadiness to a personal filming experience with 'Supersmooth' technology that stabilises both still shots and video quality. This really is a standout feature in the Totem. 'Supersmooth' claims to take Gyro and EIS to a 'new level of stabilisation', as though the camera were riding on rails and movie rigs, and it isn't wrong! This feature instantly elevates footage from amateur to professional, and makes it easier than ever to capture subjects that are in motion, such as action photography.

The Totem weighs 83 grams (including its battery) and has a battery capacity of 1000mAh. It has a 2.33" touch screen, 4K ultra-high definition and is water resistant up to 30 metres when in its case. To complement its filming capabilities, it uses dual microphones to boost its sound quality, though if you are using it for professional shoots, you will probably still want to arrange your own sound equipment.

Included with the camera are a USB cable, lens cover, waterproof case, a base mount, a curved and flat mount, and a mount screw. Finally, the camera is accompanied by the SJCAM Zone app, which allows you to control settings and functions and offers easy previewing of your recordings and photos. Other cameras manage this fine without an app, so this feature feels a little superfluous, and the 'SJCAM Zone Community' where you can meet other camera users and share your content isn't really going to catch on, I don't imagine, although it is a helpful way to share footage with your friends or colleagues.
The Totem is inarguably a good camera. If you already have a high-standard camera, it might not be worth trading in for, but if you are in the market to buy, this offers impressive standards in both video and stills photography that allow you to capture action shots and use it on the go – even under water! RRP £119.99
4.5 out of 5

Pros
Made for action photography
Smooth, steady footage and shots
Hardy case
Waterproof
Portable
Easy file sharing

Cons
Costly unless you require all of the features – not for a casual user