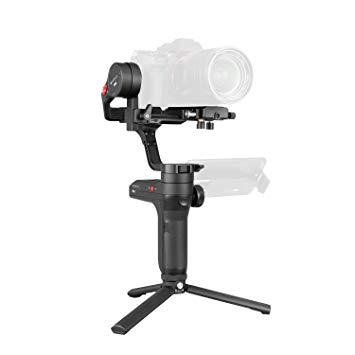 With careers being created on social media, a shaky, blurry video taken from your phone just doesn't cut it anymore, the Weebill Lab Hand mirrorless camera Stabiliser from Zhiyun is a compact device created for a mirrorless camera with smartphone attachment point, that brings your filming skills to the next level. This compact but tough stabiliser features a versatile structure with an ergonomic design that means you can either hold it upright or enter a handy underslung position by mounting the tripod as a handgrip. It has a crafted latch design on each axis which makes it easy to balance, you can lock certain axes while balancing the other and save the current setup for next time, making it suitable for run-and-gun filmmakers and easy to carry around, ready to start shooting at anywhere and any time. The wireless image transmission supports real-time monitor, framing and parameter control over your camera, ideal for compatibility with smart phones and tablets, that means most of the digital devices around you can be readily used as a monitor whilst the live preview and real-time parameter settings let you frame and take shots from any angle, at any view. The ViaTouch control system lets you control the settings from your phone screen, this means you can make various gimbal movements and tweak camera settings while framing the shots simultaneously, all via the same screen, creating a similar experience to filming straight from your phone.
The Weebill Lab weighs roughly the same as a phone stabiliser but can handle a large payload of 3kg, compatible with most popular mirrorless camera and lens combinations, it will pack down to A4 size. The external follow-focus motor equipped to WEEBILL LAB supports precise and smooth focus control to all camera systems whilst the wheel on the body lets you pull focus while moving and shooting. The PhoneGo Mode lets you capture fast-paced action with a single tap of the Go button, it will then activate the gimbal to perform its maximum follow speed to record the object precisely. When fitted with two standard 18650 batteries, you will get about 12 hours of continuous filming from one single charge, if you do run out of juice you can always charge whilst shooting. The Zhiyun Weebill Lab gives you functional and creative control over your filming projects providing you with sophisticated and polished results. RRP £579  Amazon Link
5 out of 5
Pros
ViaTouch control
Durable
3kg Payload
Allows Two-Handed Operation
Intuitive design
Easy Switching to Underslung Mode
Wireless image transmission
12 -hour battery life, charge and play option
ZY PLAY provides extra features; panorama, focus time lapse, motion time lapse, long exposure time lapse etc.
Compact