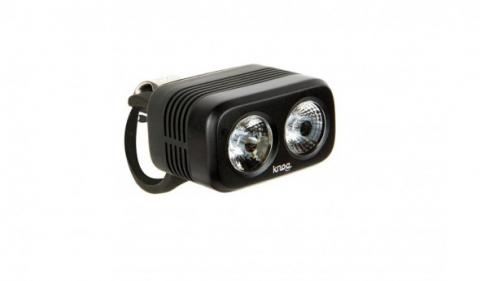 From the company that has arguably one of the best names comes the Blinder Road 400 Road Bike Light. This super powerful light kicks out 400 lumens of light thanks to the two high intensity LEDs, helping to increase your visibility on the road and ensure people can see you coming.
This compact little light is easy to attach and doesn't require any tools: the two removable silicone straps (for bars 22-28mm and 29-35mm) simply wrap around the bar and attach to the unit. This small unit measures up at 53 x 30 x 75mm, weighs 105g and has 11 light modes: low, medium and narrow low beam, narrow beam, low, medium and high wide beam, dual low, dual medium and dual high beam, as well as alternating LEDs flashing and 1 LED steady/1 LED flashing run-time.
You get between 1 to 9 hours battery life depending on your mode, with dual high being the most draining and low flash giving you the longest life. The Blinder has an IP67 rating that keeps it protected from dust and it is 100% waterproof. The beam angles are 15° on the narrow setting, 22° on the wide setting and 15°/22° on dual. The lights have two high precision, injection moulded TIR collimating lenses which create a balanced ratio of beam width and distance for safe illumination, giving you visibility up to 1000+ metres and the light beam is constant throughout run-time.
The light takes a long 5 hours waiting time to recharge, making it best to charge overnight or whilst you are at work (damnit, use their electricity!) To activate the light, you must press and hold the button to avoid accidental activation (you turn it off the same way), whilst short presses will toggle through the different modes. There is a low battery indicator, thermal management automatically regulates the light output for optimum performance when the bike is stationary and in motion, and it also comes with a helmet mount.
The Blinder Road 400 is satisfactorily bright with loads of modes to choose from. We would like to see an increased battery life, but otherwise it is a good road bike light for increased safety on the roads. RRP $119.95
3.8 out of 5
Pros
Balance and consistent beam
11 light modes
400 lumens
100% waterproof and dustproof
Thermal Management
Tool-less attachment
Cons
Short battery life
Long recharge time