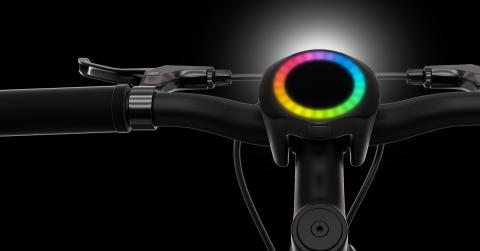 The SmartHalo is essentially a cycling companion with a minimalist interface that can help, navigate, protect, encourage, assist and light your way when you are out on your bike. With a clean design and a light-up halo indication, it is simple and attractive to use.  
This device has been designed to stay on your bike at all times: it fits on virtually any handle bar, with no visible screws and it is pretty large at roughly 6.5 x 9.6 x 7.8 cm; just shy of 200g, it won't impress the fussy, gram shredding cyclists. It could potentially draw attention to itself to thieves due to its size, however without the 'Halo Key' it is almost impossible to pinch.
Starting with the navigation feature, this unique design does away with a traditional map and uses light to indicate the direction, angle and speed of the approaching turn. It takes a little getting used to but looks pretty cool. It also works similarly in a compass mode, showing you the direction of your desired location but leaving it up to you how you get there - the light gets greener the closer you get, and if you been out for a big one and need a little help remembering where your bike is, the app will let you know. For visibility at night, the SmartHalo turns on automatically and switches off again when you finish you ride. If someone meddles about too much with bike, the SmartHalo will set off a loud alarm. The alarm will activate and deactivate by recognising your phone, or you can set up a manual deactivation code by tapping the device. You can also set fitness goals via the app, which the device will keep up to date, depending on how you are doing with a visual speedometer and fitness tracking in real time. The SmartHalo will notify if you have missed important calls or messages, and the battery will last you roughly three weeks if you use it one hour a day (it can be recharged via USB).
The SmartHalo won't be for everybody  with its quirky design, but I loved it: its colourful, fun, simplistic, easy to use and full of useful features that make for an entertaining ride on the bike, as well as security protection  for when you are away from your wheels. RRP $149.00
4.7 out of 5
Pros
Colourful, light indicator
Versatile
Loud alarm
Set fitness goals
Navigation
Automatic light
Call and message notification
Cons
Large
Heavy
Gets finger marked easily