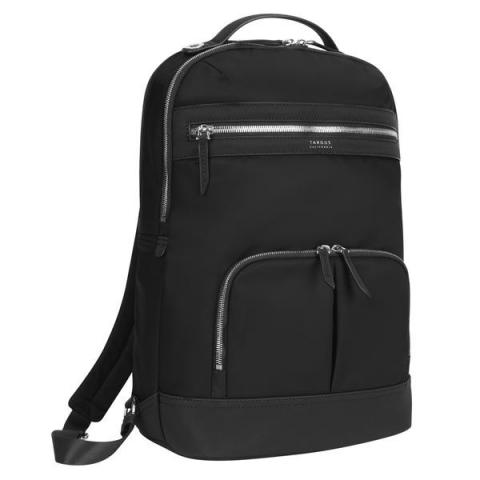 Targus 15" Newport Backpack 
uk.targus.com 
£99.99 
 
The Newport Backpack from Targus has been designed with work-to-leisure in mind, visualised as something that would be at home in a professional context, but could just as easily come with you into town for a shop and a stroll around afterwards. Most significantly, it's been designed with tablets and slim laptops in mind and yet it doesn't scream 'laptop bag', making it a far safer place to stash those work essentials as you go about your regular day. 
Designed with these items in mind, the backpack has a designated space for them, whilst still featuring a deep main section in which one can stash anything else you might need for the day – charge cables, a box of lunch, even a spare sweater. Additionally, it has several convenient extra storage sections, including a small one at the front, hidden one at the back interior, and a couple of small interior pockets. There are plenty of sections for keeping your items separate and easy to find, but no so many that you'll be scrabbling through and wondering which one you used for your keys! 
Looking at its design from the outside, I did not expect this backpack to have a vibrant orange interior, but I liked the pop of colour. For me, it made the bag more appealing and also made it feel more current: the exterior design alone was taking me way back to the 2010s, for some reason (possibly the texture of the material and the style of zip) The material is a high-density, water-repellent twill nylon that does a fair job at keeping the rain away from your electronics and other items. 
As with any backpack, the importance is not only in its storage, but in how comfortable it is to wear and carry. The Newport has padded straps that sit nicely on your shoulders, and thanks to their padding, they are extremely comfortable despite being quite slim. I was concerned that their narrow size would mean that they'd dig, but this wasn't the case. The backpack also has a padded top handle, and both this and the straps are adjustable. Finally, there's a band at the back of the backpack: I wasn't sure what this was for, until I saw an image of the backpack slid over the raised handlebars of a suitcase. Brilliant! 
This isn't my favourite of Targus' backpacks, aesthetically (the material and zips took me back a few years), but in terms of functionality it ticks all the boxes, and in terms of look, this is a classic, neutral style that puts a casual spin on a work-ready bag.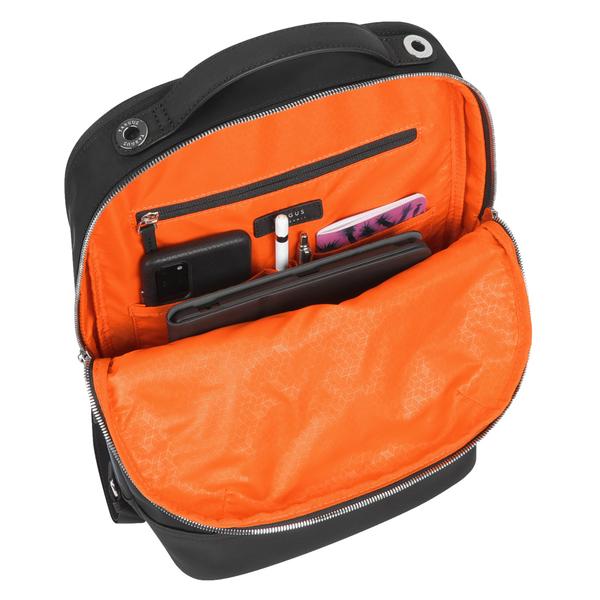 4/5 
Pros: 
Plenty of sections/pockets 
Laptop/tablet section 
Hidden back pocket 
Adjustable shoulder straps and handle 
Water-repellent