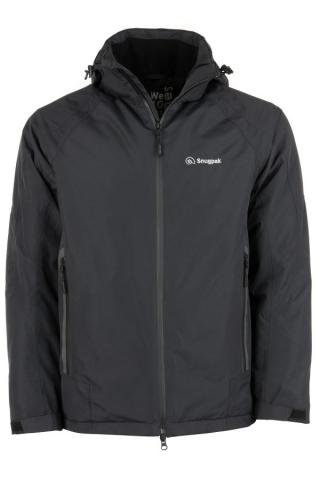 Torrent Jacket 
www.snugpak.com 
£184.00 
The appealingly named Snugpak is a company that focuses on comfortable, warm, dry adventuring gear, from sleeping bags and hammocks to tents, carry-alls and, most importantly in this review, jackets. 
 
We received the Torrent jacket in black, but it is also available in forest green. This insulated waterproof jacket is fantastic at this time of year, ready to protect you from all of the blustery, wet elements of nature. Its Softie® insulation (that's an even cuter name than Snugpak) works together with taped seams to make you so toasty warm, I was tempted to keep wearing it when I was inside, just to save on the heating bill! 
 
Living up to its name, this jacket is fully waterproof, not just water resistant. Its design has focused on making sure to plug anywhere that water might drip, adjustable at places like the cuffs and hem; it even has dual adjusters on the sides and rear of its detachable hood. Usually, a detachable hood is a weak spot when it comes to staying dry, but Snugpak have built it so that it can fit perfectly. The hood is even insulated!  
One thing I appreciated in the Torrent was the depth and size of its pockets. There's no point having an all-weather, storm-ready jacket with small pockets – if you're out in that sort of weather, you might want to bring gloves or a waterproof torch, or you might need somewhere dry and safe to stash your phone and whatever else you have that shouldn't get wet. These pockets, like the rest of the jacket, have been engineered so that no water's dripping through, including the use of YKK weatherproof zips. Even so, for the things you want to take extra care to protect, there's even a deep chest pocket. 
 
The best thing about the pockets, however, was how warm they were. Forget stashing your belongings – these pockets are perfect for stashing your hands! Lined with brushed polyester, they're both comfortable and toasty, which, let's be honest, is going to be the most important thing when you're battling the wind and rain. 
 
Jackets tend to be either hardy and well-engineered, or comfortable, but the Torrent manages to be both. Ventilation zips allow you to vent and keep cool, unlike that 'plastic bag' feeling that some waterproof jackets can have. Instead, this has lined pockets, a lined neck warmer, liner everything to keep you feeling good whatever the weather. It's not a cheap price, but you get what you pay for, and with the Torrent, you can see exactly where every penny has gone: into careful design and quality production. 
 
4.8/5 
 Pros: 
Fully waterproof 
Lined and insulated 
Adjustable hem and cuffs 
Deep, dry pockets 
Detachable hood 
Ventilated 
Temp Range: -5°C to -10°C 
 
Cons: 
I'd like some more colour options