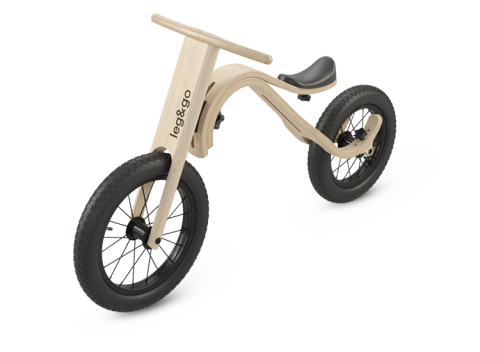 Like many people I can remember getting my stabiliser removed off my first bike, I felt like I was such a grown up setting out for the first time on wheels, shortly after I was covered in plasters and iodine. The problem with stabilisers is they fail to teach you the art of balance and subtle leaning needed to master a bike, to ease children into the world of cycling a balance bike is a good place to start.
The 3 in 1 Balance Bike from Leg & Go is a successful Kick Starter project from chief designer Egons Garklavs, choose between a Balance Bike, Baby Bike and Bouncy Bike configurations and with additional kits you can modify the bike into a Rocking Elephant, Tricycle, Downhill Bike and Pedal Bike, with the Polar Bike (think of a scooter with skis instead of wheels) coming soon, giving you up to eight different modifications to choose from. We will be focusing on the three that come with the original pack, constructed from Baltic birch plywood free of voids, its inner layers are thick and solid, making it strong and long-lasting.
Using wood as the main material helps to absorb impact during any accidents, and the customisability makes it an economic and more environmentally friendly purchase. The Balance Bike can grow with your child with no special tools required to make changes, there are easy to use, hand friendly knobs to adjust the height, seat, distance from the handle bars and configuration of the bike, there is a built-in magnet for ease of changing accessories, the front wheel is larger than the rear to make steering around obstacles more trouble free and provides control on bumpy terrain, the whole thing is lightweight at just 3.3kg and is suitable for children up to 30kg.
The Balance Bike (1.5years to 5years) configuration helps to encourage a confident sense of balance and coordination and provides a good natural suspension, the Baby Bike (10months to 2 years old) is suitable for children who have just learnt to stand, encouraging them to take their first steps and develop balance, the upside-down frame is the lowest variant of them all for the youngest riders with inside leg height of 20 cm. Lastly the Bouncy Bike (2-3years old) is a great choice for those children who love to swing, providing a bouncy, but safe ride, best on flat terrains, the steering limiter prevents sharp turning angles. The 3 in 1 is an excellent idea, and with lots of modification and adjustment options there is something for every child from 18months (6months is the additional rocking elephant is purchase) all the way up to 5 years old. The minimalist wooden design is practical, durable and rather beautiful, all the components are well made and straightforward to assemble, adjust and enjoy. RRP €250
5 out of 5
Pros
3 in 1 with up to 8 configurations with available add ons
Durable materials
Natural suspension
Easy to adjust
Attractive minimalist, gender neutral design
Teaches balance and coordination
Steering limiter
Compact pack down for storage and travel