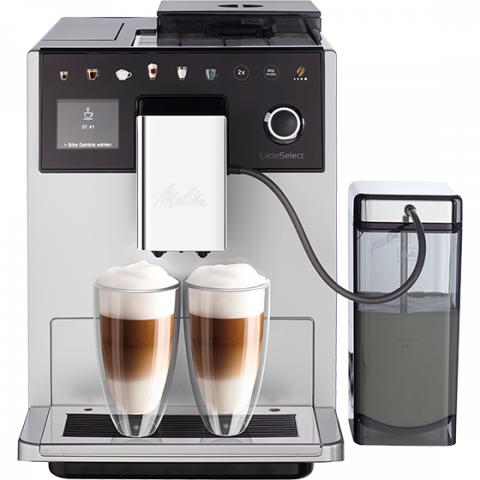 LatteSelect Fully Automatic Coffee Machine 
www.melitta.co.uk 
£1,049
 
We always love a product from Melitta, and the LatteSelect is a classic example of why! Don't be led astray by the name – this coffee machine can actually produce twelve different coffee recipes, not just lattes! (Though, that said, lattes are my favourite, so the one I tested was producing plenty of those) 
 
It also produces the other staple classics: the four most common go-tos are ready to go on the main buttons, and via the menu, you can access the others. The 'main four' in this case are espresso, café crème, cappuccino and latte macchiato, with others such as lungo, espresso macchiato and the classic americano also available.  
 
You're not limited to these options, either. Twelve recipes already provide a brilliant number of options, but this machine goes further, allowing you to edit your settings in order to create your own, specific coffee preference. If you're just looking to heat or froth some milk, this is also possible with the touch of a button. Once you're happy with your selection and its results, you can save the parameters to the My Coffee feature - a feature that can save and remember the preferences for up to six people. I appreciated how many profiles it is able to remember – this is suitable for a slightly larger than average household, or can even be used for yourselves and your regular guests. And, of course, with its Double Cup Mode, you can pour two matching drinks at once! 
Also to support varying tastes within your house (or even your own preference depending on mood, time of day etc.), the machine is able to have two different kinds of bean loaded up at once. Worried about them sitting in the chambre for too long? Don't - these chambres have an Aromasafe® lid and are tinted dark, which all helps the beans to keep their aroma. Why invest in delicious, quality beans only to have the flavour fade before their use? That isn't a concern with LatteSelect.  
You can select which bean you wish to use manually as you make your coffee, as well as selecting or pre-setting the brewing strength and grinding fineness. The grinder itself was pleasantly quiet – the idea of a loud grinding noise first thing in the morning isn't pleasant, but that too isn't a concern with this machine. There is even a chute for pre-ground coffee, if that's what you sometimes want to use. 
The actual look and build of this machine are simple, stylish and easy to look after. Its stainless steel, silver-coloured exterior is anti-scratch, including the drip tray, and every part of the machine is easy to clean. The milk section (the part that will need the most cleaning!) detaches and is dishwasher-safe. As for the nozzles and other parts that come into contact with milk, every time you make a milky beverage, the LatteSelect offers to steam-clean these parts for you. I really appreciated this, as hygiene is something I get quite fussy about, so this was excellent peace of mind. As for the rest of the machine, it will tell you when it detects that it needs to be cleaned or descaled, so you never have to worry about it becoming damaged by accidental build-up. 
A detail we love about the LatteSelect, and many Melitta products, is that these machines mimic the correct, Italian barista way of making coffee. So, for example, the espresso and milk will be poured and combined in the right order for the beverage in question, changing beverage by beverage. The results don't feel like a quick and easy 'coffee machine' - this is a barista experience that runs itself for you. 
 
At £1000, these machines aren't cheap, but you honestly get what you pay for. We've had some glorious weather this summer, and spending it out in the garden, nursing a barista-level coffee has been the cream on top. 
 
5/5 
 
Pros 
Delicious, Italian-style coffee 
Barista order and timing in coffee prep 
Adjust and program every preference 
Stores 6x people's preferred coffee recipe 
Anti-scratch 
Easy to keep clean 
Alerts when it needs cleaning 
Extremely quiet grinder 
Can also use with pre-ground coffee 
 
 
Cons 
The separate milk chamber adds to its counter footprint