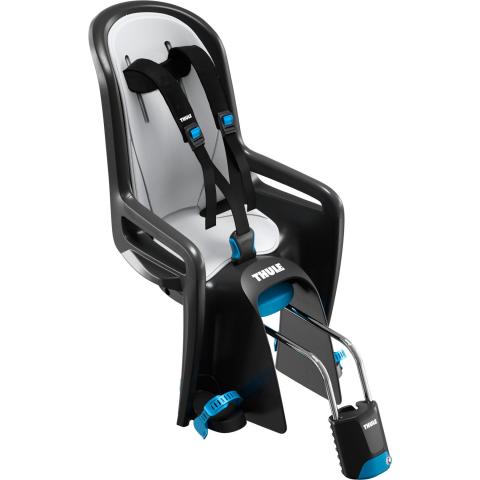 The RideAlong is a rear facing children's bicycle seat which comes available in 3 colours; grey, light grey and zinnia (a beautifully bright orange). The RideAlong feels solid, this thing is built too last.
Initially, the seat made me panic as to how difficult it was going to be to assemble but I was pleasantly surprised with how quick and easy it was to attach to the bike. The universal quick release bracket allows the seat to mount and dismount from the bike in seconds and is compatible with most bike frames (27.2-40mm diameter on rounded frames and maximum 40x55mm on oval frames). The frame simply slides under the seat which then fits into the bracket on the bike, you just simply lock the frame off under the seat and then lock off the bracket with a key and you are ready to go.
The RideAlong is suitable for children from 9 months (consult your Midwife for children under 1year old) up to approx. 6 years old (up to 48.5 lbs/22 kg). One of the best things about this child seat is how simple it is to put your little one in and adjust it to their size, all the adjustable components are highlighted in blue and can be adjusted with one hand. The RideAlong also has a reclining option of 5 different positions up to 20 degrees, our little test subject really liked this action as he could see more of the world this way and with the DualBeam suspension system he enjoyed the smooth ride. Thule have also provided some other cool functions like the detachable, water-repellent seat padding which is machine washable and reversible, offering two colour options. There's also a built-in reflector and safety light attachment point to provide extra visibility to increase safety for both you and your passenger. The only thing that would make the RideAlong better is the introduction of a 5-point harness rather than the current 3-point harness, just to keep those little wriggly legs in place whilst you are out and about.
All in all, the RideAlong is an excellent child seat. The seat is solidly constructed, super easy to attach and use whilst at the same time providing a comfortable ride for both you and your co-pilot. RRP £120
For Latest Price Click Below
4.7 out of 5 that meets international safety standards
Pros
Easy to attach
Solid construction
DualBeam suspension system
One-hand tilt function of up to 20 degrees (5 positions)
Compatible with most frames
Meets international safety standards
Cons
3-point harness instead of 5-point harness