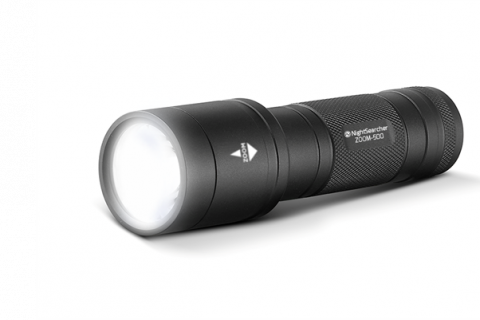 Nightsearcher ZOOM 500 Spot-to-Flood Flashlight
Price £32.95
www.shop.nightsearcher.com

The new ZOOM 500 Spot-to-Flood flashlight from NightSearcher may, at a glance, seem like the kind of basic torch you find at the bottom of every household 'stuff' draw, but it is actually packing a secret punch.
NightSearcher has recently launched its new 'ZOOM' range of torches, and if there's one thing we've learnt after reviewing many NightSearcher products in the past, it's that their torches always have a feature that sets them apart. In this case, this new range offers the company's most advanced spot-to-flood torches to date.
We recently added a border collie to our family, which means we suddenly need to head out on two walks a day to vent all his energy. In perfect timing, the days are getting darker much earlier, and that means one of our daily walks always feels like it's at night. For everyone heading out in the evenings, it helps to have a handy, compact torch with you that will actually do the job of lighting your way!

This dinky, hand-sized torch kicks out an impressive 500 lumens – in case you don't know your 'lumens' talk, that's bright. What's more, that beam has a range of 285 meters – that's an insane field of vision from such a small torch. You might not always want that much light, though, and that's why the ZOOM 500 comes with five light settings: Low, Medium, High, Boost or flashing.

But what does 'spot-to-flood' mean? Basically, you can slide this torch between two settings, so it either throws out a wide beam of light or a narrow, focused beam. This isn't a new feature in torches by any means, but this range seems to do both settings properly. I'm used to torches of this size having a so-so beam that doesn't light much up, and whilst you can toggle between a slightly brighter or a slightly broader beam, it doesn't make a huge load of difference. With this torch, however, you feel like you have a professional-grade, beefy tool – but one that came at an affordable price and tucks easily into your pocket. Even crazier, its battery life (4 x AAA) can last up to 45 hours, so you can head out for a long night with no worries at all.

Pros:
Up to 500 lumens
285 meter range
Spot or flood beam
5 light levels
45 hour battery life
Batteries included
Secure grip
Sturdy case
Convenient size
Good price

5/5