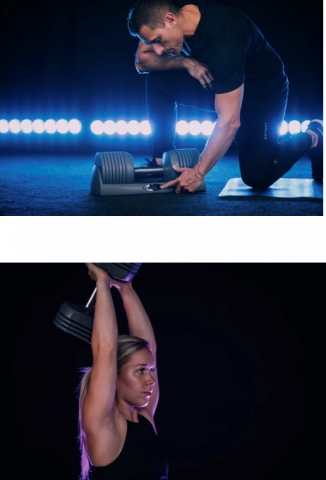 JAXJOX DumbbellConnect
JAXJOX has single handedly revolutionised fitness. The DumbbellConnect is the first of its kind digital dumbbell set. . Each dumbbell has the ability to change weight between 3.6kg-22.6kg. If you have a gym or workout space at some, you may have a whole rack of dumbbells, or at least have a pile of weights that you have to screw on and off the dumbbell bar. This is a pain, certainly if your arms are already aching too! With the JAXJOX Dumbbell Connect, you will only ever need TWO dumbbells maximum! That's it. Better sell your old rack of dumbbells now and make the space for another piece of fitness equipment in your home gym.
The two DumbbellConnect weights will each sit in a cradle. At the touch of a button you can change weight increments within seconds. You have a fair few options here, choose from: 3.6kg, 6.3kg, 9.07kg, 11.8kg, 14.5kg, 17.2kg, 19.9kg, 22.6kg. This is the perfect number of variations in weight for all abilities of fitness. However, if you are already hench – 22.6kg might not cut it for you. 
With another touch of a button, you are able to connect the DumbbellConnect to the JAXJOX app on your phone. Via the app you are able to keep a track of your workout sessions, with detailed breakdowns on your reps, volume, sets, avg power, and workout duration. Unfortunately, on top of the £499.99 you are spending on the DumbbellConnect, it is an extra £12.99 a month if you wish to get on-demand workout classes and personalised Fitness IQ tracking with the premium version of the app. There is a 30-day free trial, but I think you would have to be very committed to pay extra for this feature. But it is cheaper than a personal trainer!
Overall, I really think this is a brilliant product, as it saves space and could also be very useful if you want to get a change of scenery for your next workout. These are incredibly portable, and you could take them to the park or the beach – wherever you fancy working out! Bear in mind that these do need charging, but if you keep them plugged in while not in use, you'll never have to worry about this. JAXJOX has priced these rather dearly, however upon further research, some complete dumbbell sets with a rack can cost way over £500, so at £499.99, you could consider the DumbbellConnect fairly modest in comparison. The DumbbellConnect is certainly a one-of-a-kind product, if you want to impress your workout buddies, maybe you should think about getting these. Hopefully over time JAXJOX will release a version with almost limitless weight variations – but this is very impressive technology and will more than suffice for now!
RRP £499.99
Rating 4/5
Pros
Portable
Save Space
Revolutionary Tech
App Connectivity
Cons
Expensive
Limited Weight Variation
Premium Features on App