3 Essentials for Getting Your Business Off the Ground
If you're planning to start a new business, it's vitally important that you have the right elements in place before you set off. Everyone planning to work for themselves flies blind for at least part of the journey, but it is possible to make certain preparations that will assure you at least some level of success. In this article, we'll explore the main three.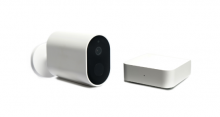 The all-new Imilab EC2 Wireless Home Security Camera is a success on many levels. In an age where security and privacy are becoming more of a concern, the efficiency of the EC2 offers the peace of mind that can only come through feeling completely in control of your home environment - even when you are away from it.